Wildfire
The Instant Global #1 and Sunday Times Bestseller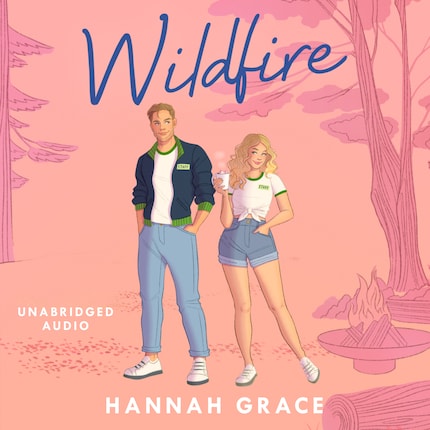 Description of the book
COMING IN SUMMER 2024, THE BRAND NEW HANNAH GRACE MAPLE HILL SERIES NOVEL - PRE-ORDER NOW!

The new novel from the bestselling author of Icebreaker....

When Russ and Aurora cross paths at a university party, a drinking game ends with them spending the night together. The next day, Aurora slips away before Russ learns her full name.

This anonymity ends when they both turn up to their first day of work as camp counsellors. A job they had both chosen to escape Maple Hills for the summer.

Given their history, there's still an obvious tension between the two but the camp has a strict "no staff fraternizing" rule. Russ doesn't want to risk heading home early but Aurora has never been one for rules.

As things heat up, they'll have to resist or risk starting something they just can't stop.
18+ content
© 2023 © 2023 Hannah Grace. All rights reserved. (P) 2023 Simon & Schuster, Inc. All Rights Reserved. (Audiobook)
What others think
Reviews of Wildfire –
Audiobook
I'm surprised how much I liked this considering I didn't really rate Icebreaker. I still found that there were too many characters but I really enjoyed the story overall. The narration was great too.
First book tried on here. Nice and pleasant. Not disappointed at all Would recommend.
Icebreaker by Hannah Grace 🧊🥅⛸️❄️ 🥇💎🤍🏒🦌 🛟 This has been on my TBR for such a long time and took @lauraedwards recommendation to finally pick it up. I ended up listening to it on BookBeat because it's the quickest way I'm getting through books out on season but I knew I wouldn't enjoy it as much as reading it physically… and I was correct. Because sometimes when listening I get distracted I wasn't as invested in the characters as I would have been. This reverse grumpy sunshine, forced proximity, he falls first romance just ticks all the boxes. It is longer than your standard contemporary romance but I really enjoyed it and have already picked up the second in the series because I enjoyed the found family and the writing so much. It's worth the hype if you go in with the expectation that it's a cheesy collage hockey romance.