Upstairs & Downstairs
- Tim Tate, Hilda Newman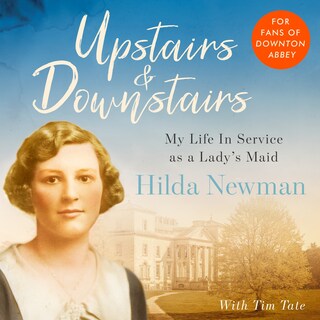 Summary
The year was 1935: the twilight of the English aristocracy. It was a time of wealth and glamour; of lavish balls and evening gowns; of tiaras and a coronation. As personal maid to Lady Coventry, Hilda Newman had a unique insight into the leisured life of one of Britain's most noble families. In her fascinating memoir of life upstairs and down, Hilda takes us back to this period between the wars; a gilded era which would soon be dramatically changed by the Second World War.

Transplanted from a tiny house with no bath or hot water to an eighteenth-century Neo-Palladian mansion, Hilda's life changed beyond recognition. But in a time when the very foundations of British society were being shaken to their core, the luxurious life of the country nobility couldn't last. The Second World War brought more turbulence with it, and Croome Court, where Hilda had lived and worked, became a haven for the Dutch Royal Family fleeing Nazi occupation, whilst also home to a top-secret RAF base. The lavish banquets and decadent parties had become a thing of the past.

Hilda's story takes us back to a bygone era, showing us what life was really like in England's classic country manors of old - and uncovers the real lives of the people who occupied them, from wealthy lord to lowly servant.