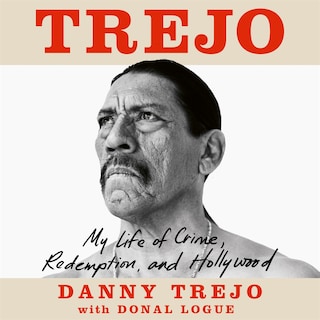 Summary
On screen, Danny Trejo is the most recognisable anti-hero in Hollywood - killed at least a hundred times, he steals every scene he's in. But off screen, he is so much more. The ultimate hard-knock-lifer, and a true man of the world, he has all the stories, and all the scars.

Raised in an abusive home, Danny struggled from an early age with heroin addiction and doing time in some of the country's most notorious state prisons, including Folsom and San Quentin - where he met Charles Manson - before starring in modern classics and cult hits alike, such as Heat, Breaking Bad, From Dusk Till Dawn, Sons of Anarchy, Desperado, Machete and scores more. Now, Danny takes us through the peaks and valleys of his life, including meeting one of the world's most infamous serial killers and working with icons like Charles Bronson and Robert De Niro.

In raw detail, Danny recounts how he managed the horrors of incarceration, rebuilt his life, and drew inspiration from the adrenaline-fueled robbing heists of his past for the film roles that forged his legend.

Redemptive, poignant, and raw, Trejo is a portrait of a magnificent life and an unforgettable journey through tragedy, pain, and, finally, success. Told with cowboy appeal, gritty rebel wisdom, and total honesty, these are outlaw stories from the frontiers: the frontiers of prison, of Hollywood, and of life.

Includes an exclusive bonus track with Donal Logue sharing his favourite stories about his friendship with Danny and writing the book together.