The Wrong Side of Right
- Nya Rawlyns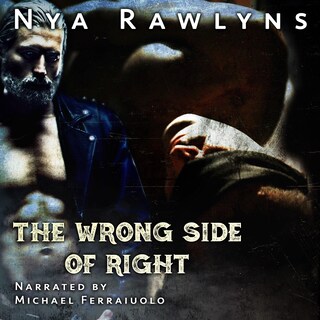 Summary
Tony Mitchell is a loner who spends most of his life staying low, denying who and what he is until Aiden Caldwell walks into the shop and changes everything. Tony thinks his new supervisor hates his guts, but that doesn't keep Tony from dreaming and yearning. His fantasies drive him to follow the older man, revealing a secret that only confounds Tony's obsession.

Conflicted and confused, Tony falls under the spell of a man called Tank who leads Tony down a dark path of seduction and dangerous cravings. Under Tank's guidance, Tony learns to suspend reality, to succumb. The one thing he doesn't learn is how to say no.

Aiden Caldwell pulls Tony from the precipice but not from the addiction that threatens to consume the young man.

In the matter of love and trust, can two men intent on hiding their most secret selves find common ground as fate and their own tumultuous pasts conspire to tear them apart?

The Wrong Side of Right is an uncompromising exploration of male/male sensuality. This book contains adult language, adult situations and dubious-consent. If you are easily offended, you may not enjoy this book.
© Author's Republic (Audiobook)