The Ultimate Passive Income Guide: Analysis of Multiple Income Streams - Latest, Reliable & Profitable Online Business Ideas Including Affiliate Marketing, Dropshipping, YouTube, FBA, Blogging and More
- Adam P. Godin, Seth Grant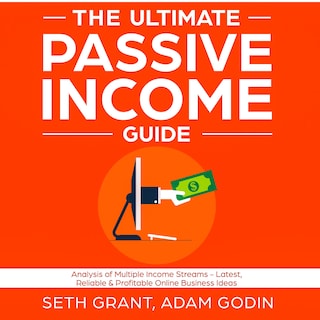 Summary
Are you ready to stop worrying about your next paycheck? Do you want to live a life of financial freedom from the comfort of your own home?
Plenty of people make a little side hustle money online, but they give up too soon because they work too hard for little results. Do you want to be that person that puts in the hard work, the right way, and then profits off it for the rest of your life?
It doesn't take a spark of genius, or tireless hours slaving away at your online business. It just takes a little business savvy, and working on the right tasks, at the right time. Inside The Ultimate Passive Income Guide, you're going to discover:
•Real Strategies Proven to Bring You Maximum Results
•DropshippingMade Easy via Shopify
•Youtube Like a Pro and Earn Constantly
•GoodleAdsense and High Revenue Blogs
•Getting Paid to Share Your Expertise with Online Courses
•Investing Smart With High Yield, Low Risk
•And more....
If you're ready to stop spinning your wheels, work less, make more money, and reinvent life for yourself as a rich person with plenty of time for yourself, then you need to scroll back up to the top and buy this book now!
© Author's Republic (Audiobook)