The Legend of Sleepy Hollow, Ride of the Headless Horseman
- Washington Irving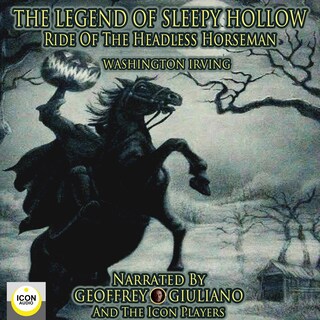 Summary
The Legend of Sleepy Hollow" and "Rip Van Winkle" by Washington Irving,, both appear in his book The Sketch Book of Geoffrey Crayon, Gent. His historical works include biographies of George Washington, Oliver Goldsmith and Muhammad, and several histories of 15th-century Spain dealing with subjects such as Christopher Columbus, the Moors, and the Alhambra. Irving served as the U.S. ambassador to Spain from 1842 to 1846. Irving made his literary debut in 1802 with a series of observational letters to the Morning Chronicle, written under the pseudonym Jonathan Oldstyle. After moving to England for the family business in 1815, he achieved international fame with the publication of The Sketch Book of Geoffrey Crayon, Gent. in 1819. He continued to publish regularly—and almost always successfully—throughout his life, and completed a five-volume biography of George Washington just eight months before his death, at age 76, in Tarrytown, New York.
Produced by Devin Lawrence
Edited by Macc Kay
Production executive Avalon Giuliano
ICON Intern Eden Giuliano
Music By AudioNautix With Their Kind Permission
©2020 Eden Garret Giuliano (P) Eden Garret Giuliano
Geoffrey Giuliano is the author of over thirty internationally bestselling biographies, including the London Sunday Times bestseller Blackbird: The Life and Times of Paul McCartney and Dark Horse: The Private Life of George Harrison. He can be heard on the Westwood One Radio Network and has written and produced over seven hundred original spoken-word albums and video documentaries on various aspects of popular culture. He is also a well known movie actor.
© Author's Republic (Audiobook)