The Happiness Project
- Pippa James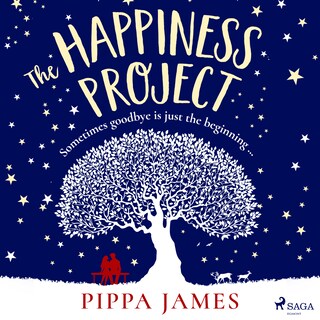 Summary
Prepare to be captivated by one of the most poignant and heart-warming books you will read this year, perfect for readers who loved One Day in December.

Alison's perfect world has fallen apart. Her beloved larger than life mother-in-law, Maggie, has just passed away. Every afternoon they'd talk and laugh over a pot of tea - and Maggie was secretly the glue that held Alison's family together. Now she's trying to figure out a future without her...

With a little help from her two best friends, Alison resolves to try and find her happy place and be more Maggie. Vowing to step outside of their comfort zones and make the most of every day, the three women each have their own challenges to overcome in the year ahead - a baby on the way, a romance to save, and a much-needed confidence boost.

But as Alison finds herself drinking more wine than she ever has in her life and signing up for an extreme sports charity event, she starts to wonder if this is really the change she needed in her life? Or will she re-discover her happiness closer to home?

What readers are saying about The Happiness Project:

'I completely loved this book and devoured it in one day as it was too good to put down... perfect humour... endearing and heart-warming... an uplifting and feel-good story that will leave you wanting more...' Stacy is Reading, 5 stars

'Warm and uplifting... The story rockets along and will have you laughing and crying.' Mrs W, 5 stars

'A stellar novel of friendship, motherhood, and happiness.' Plucked from the Stacks, 5 stars

'Wonderful and so endearing... Having me laughing at one point and crying the next. It is a heart-warming story full of friendship, families, love and loss.' Stardust Book Reviews

'An uplifting tale about friendship, family, and kicking-ass at womanhood... The novel is hilarious... Warm and enticing... Making me chuckle.' Jessica Ryn

'A truly fabulous feel-good read ... It's a brilliant story of friendship.' Mum Reinvented, 5 stars

Growing up in Birmingham, Pippa James was never without at least one book on the go and therefore lived several different lives concurrently. As an adult, she would like to spend much of her time the same way, but she now lives a chaotic life in a small Derbyshire town with her husband and two children. Her writing is frequently interrupted by parenting duties and her day job as a teacher and the only way she can find a quiet space to think, is by taking her laptop to the pub, which she does at every opportunity.
© Saga Egmont (Audiobook)