Swipe Right
- Stephie Chapman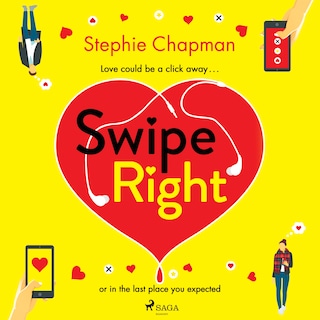 Summary
This hilarious romantic comedy is When Harry Met Sally for the Tinder age. Perfect for fans of Mhairi MacFarlane, Laura Jane Williams and Sophie Ranald.

The love of your life might be in your phone... or he could be standing right in front of you.

When Fran meets Ollie, it's eye-roll at first sight. Who does he think he is – with his Ray-Bans, piss-taking and artfully styled hair? But forced into working together at a trendy media content agency, they soon realise that they could be BFFs.

When Fran's relationship crumbles and Ollie sets off on a round-the-world trip with his girlfriend, Fran decides to start an anonymous dating column. Detailing all the perils of dating online, Fran begins to wonder: maybe there aren't plenty more fish in the sea?

But Fran's about to learn that sometimes love can be where you least expect it... you just have to put down your phone.

Stephie was born in England in the mid-1980s, which makes her thirty-something (but if you ask, she'll probably tell you she's 27). Now, she lives on the South Coast of the UK, has a day job to keep her holiday budget topped up, and two kids and a husband to keep an eye on.
© Saga Egmont (Audiobook)