Romance Collection: 5 Single Dad and a Virgin Short Stories
- Kathleen Hope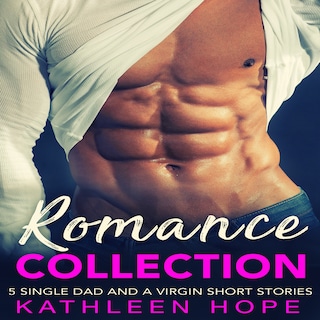 Summary
Scarlett stared at the sign staked in the grass at the side of the highway. 'Paradise Peak, population 1100,' it read; a sign she hadn't seen since her family had passed it on their way out. It was the same sign though, rickety and worn. It was a wonder the rotting legs hadn't given out years ago.
This was it. Just a few more minutes and she would be home. At the moment though, the idea of coming home seemed more daunting than comforting.
Not for the first time on her eleven-hundred mile trek up the west coast, she wondered what the hell she was doing. This had seemed like a good idea six months ago in California. Now though, she couldn't help but wonder if she'd gone just a smidge—or off her rocker—crazy.
But it wasn't crazy, she reassured herself. The oversized, glass-walled monstrosity her family had moved to in California had never felt much like home. Hell, she'd needed to use the intercom to call to the opposite side of the house. No, the quaint, ranch-style house she'd grown up in…that was home. Of course, home was situated in a place where everyone knew absolutely everything there is to know about…well…everyone. So, if she thought she could keep her homecoming quiet, she really was losing her marbles.
Realizing she'd slowed to a crawl's pace, she forced her foot down on the pedal. It was too late to change her mind now. Besides, it was entirely possible nobody would recognize her and she'd at least make it through the day before the Paradise Peak Gazette's only reporter was banging down her door.
She drove the half mile into town and stopped at the nearest...
© Author's Republic (Audiobook)