Powerless
TikTok made me buy it! An epic and sizzling fantasy romance not to be missed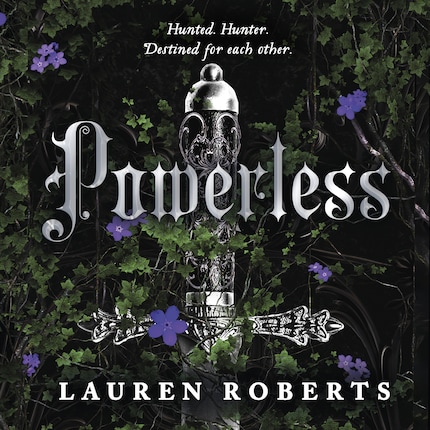 Description of the book
AN INSTANT NEW YORK TIMES BESTSELLER!

'Nothing short of epic' Rosie Talbot, bestselling author of Sixteen Souls
'A thrilling fantasy with the most delicious slow-burn romance' M.A. Kuzniar, bestselling author of Midnight in Everwood
'A masterpiece' Goodreads Reader Review
'Everyone needs to read it' TikTok Review
'The BEST book I've read' NetGalley Reader Review
'A sizzling slice of fantasy romance' Booksellers Review

Fourth Wing meets The Hunger Games in this epic and sizzling fantasy romance not to be missed.

Only the extraordinary belong in the kingdom of Ilya . . . The exceptional. The Elites. The Elites have possessed powers for decades, gifted to them by the Plague, while those born Ordinary are just that, banished from the kingdom and shunned from society.

No one knows this better than Paedyn Gray, an Ordinary posing as an Elite. When she unsuspectingly saves one of Ilya's princes, Kai Azer, she's thrown into the Purging Trials, a brutal competition to showcase her 'Elite' powers.

If the Trials and the opponents don't kill her, the prince she's fighting feelings for will if he discovers what Paedyn really is . . . completely Ordinary.

Be swept away by the first in the smash hit, dagger-to-the-throat romantasy trilogy taking the world by storm. Containing a special sneak peek of the second instalment, Reckless coming in July 2024, which is available for pre-order now!

Follow Lauren Roberts on TikTok @Laurens1Library
© 2023 ©2023 Lauren Roberts. All rights reserved (P)2023 Simon & Schuster, UK. All Rights Reserved. (Audiobook)
What others think
Reviews of Powerless –
Audiobook
One of my most anticipated Tik Tok books. I remember reading Pov's of it, but the actual book turned out so much better than I expected and the parts I knew blended in so smooth and came in so unexpected I didn't realized I've already read them before. A beautiful mix of romance and adventure, with fantasy elements and unexpectedly, no extra spice (Tik Tok you reedeemed yourself with this one... but I'm on to you 👀). The story kept me on the edge and I really just pushed through one more chapter every time, unwilling to put it down. Great book, loved the audio naration too❤️ "She is the embodiment of a bad decision. The twin of danger and desire. The fine line between deadly and divine. And I can feel myself drowning."
A brilliant story, had me on the edge for the whole thing, even had to stop for time out, and have already pre ordered the 2nd book!
Very similar to hunger games.