Pollyanna Grows Up
- Eleanor H. Porter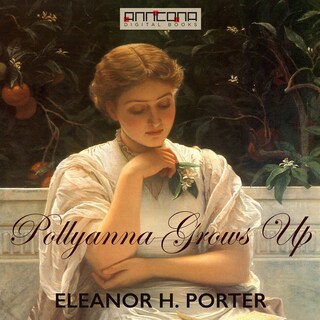 Summary
Pollyanna Grows Up is a 1915 children's novel by Eleanor H. Porter. It is the first of many sequels to Porter's best-selling Pollyanna (1913), but is the only one written by Porter herself; the numerous later additions to the Pollyanna franchise were the work of other authors.

Pollyanna, goes to live in Boston with Mrs. Carew, a heart-broken woman searching for her lost nephew. Her Aunt Polly goes abroad with her new Uncle, Dr. Chilton. While in Boston, Pollyanna meets new friends and has several interesting adventures...

A startling change in Aunt Polly's and Pollyanna's circumstances require Pollyanna to come up with a workable solution. Pollyanna's solution brings all her new friends from Boston and her old friends in Beldingsville together. Pollyanna also discovers she has to make a choice. Who will win her heart?

Eleanor H, Porter (1868-1920) was an American novelist. Porter wrote mainly children's literature, adventure stories, and romance fiction. Her most famous novel is Pollyanna (1913), followed by a sequel, Pollyanna Grows Up (1915).


© Anncona Media (Audiobook)
© Anncona Media (Ebook)