Ögonblick i tillvaron
- Virginia Woolf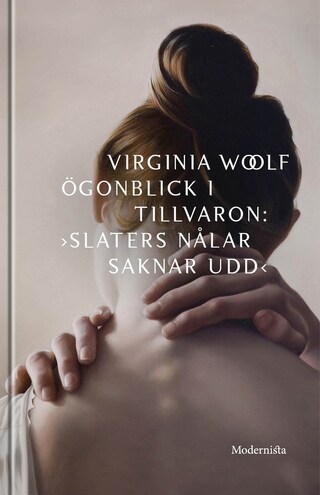 Summary
Ögonblick i tillvaron: "Slaters nålar saknar udd" [Moments of Being: 'Slater's Pins have no Points] är en novell av Virginia Woolf. När en ros lossnar från Fanny Wilmots klänning och Miss Cayle utbrister »Slaters nålar saknar udd – tycker ni inte det?« får Fanny något av en chock.

I översättning av Margareta Ekström.

VIRGINIA WOOLF [1882–1941] föddes i London. Med romaner som Jakobs rum [1922], Mrs Dalloway [1925], Mot fyren [1927] och Orlando [1928] blev hon en av modernismens förgrundsgestalter och räknas i dag till 1900-talets viktigaste engelskspråkiga författare. Som tänkare, med essäer som Ett eget rum [1929], har Woolf påverkat kvinnorörelsen i många länder.