No Longer Safe [Booktrack Soundtrack Edition]
- A.J. Waines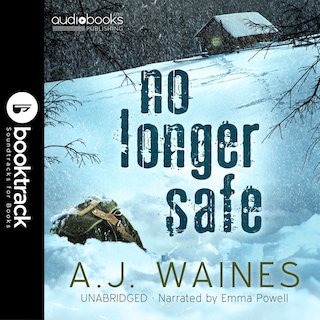 Summary
This edition of No Longer Safe is enhanced with a musical soundtrack from Booktrack for an immersive listening experience!
For fans of Paula Hawkins, Ruth Ware and Lisa Scottoline comes a new thriller from best-selling author of "Girl on a Train", "Dark Place to Hide" and "The Evil Beneath".
She was your best friend. Now she's your deadliest enemy – and there's nowhere to run…
When Alice receives an invitation from Karen, her charismatic University friend, to stay in a remote cottage in Scotland, she can't wait to rekindle their lost friendship. But two more former students arrive – never friends of Alice's – and as the atmosphere chills, Karen isn't the warm-hearted soulmate Alice remembers. Barely is the reunion underway before someone is dead and the fragile gathering is pushed to breaking point.
As the snow cuts them off from civilization and accusations fly, Alice finds herself a pawn, sinking deeper into a deadly game she can't escape.
NO LONGER SAFE is a chilling psychological thriller that delivers a delicious sting in the tail.
© Author's Republic (Audiobook)