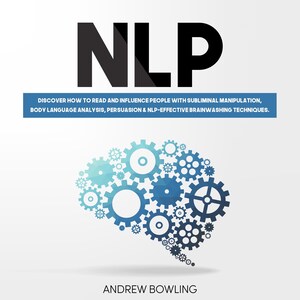 Summary
Discover How to Read and Influence People with Subliminal Manipulation, Body Language Analysis, Persuasion & NLP-Effective Brainwashing Techniques.

The mind and consciousness have always been a riddle to humanity. Humans are trying to figure out exactly how we make decisions, manipulate emotions, and take action.

NLP is extremely simple to learn - you just need to know how.

This audiobook is a stepping stone on the path to gaining a better understanding of human nature. I hope you'll build on it, by applying what you learn in your everyday life, using it to more effectively your interactions with others, in order to be more successful in your relationships, your work, and your social life. There's another world under the masks we often wear as we move through the world. There's a storehouse of experiential information, emotions, culture, and unique knowledge offered by every person we meet, that can make our lives richer, fuller, and happier.

Manipulation and the various techniques of dark psychology can be harmful and one must be very careful in case someone tries to use them against us, and at the same time must pay attention to using them against others. They are also very useful, and it is important to be experts on these topics!

What are you waiting for? SCROLL UP and BUY NOW!


© Author's Republic (Audiobook)