My Brother, Muhammad Ali
- Rahaman Ali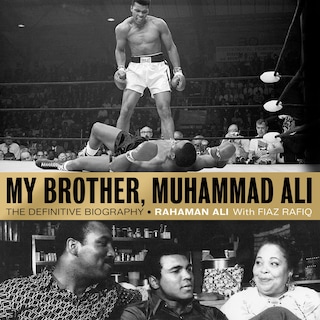 Summary
A Sunday Times Book of the Year

'Rahaman has, at last, written the definitive biography on his late brother, which tells the real Ali story' - Mike Tyson

'The real life of the Great One' - George Foreman

More words have been written about Muhammad Ali than almost anyone else. He was, without doubt, the world's most-loved sportsman. At the height of his celebrity he was the most famous person in the world. And yet, until now, the one voice missing belonged to the man who knew him best - his only sibling, and best friend, Rahaman Ali.

No one was closer to Ali than Rahaman. Born Cassius and Rudolph Arnett Clay, the two brothers grew up together, lived together, trained together, travelled together, and fought together in the street and in the ring.

A constant fixture in his sibling's company, Rahaman saw Ali at both his best and his worst: the relentless prankster and the jealous older brother, the outspoken advocate, the husband and father. In My Brother, Muhammad Ali, he is able to offer a surprising insider's perspective on the well-known stories, as well as never-before-told tales, painting a rich portrait of a proud, relentlessly polarizing, yet often vulnerable man.

In this extraordinary, poignant memoir, Rahaman tells a much bigger and more personal story than in any other book on the great man - that of two brothers, almost inseparable from birth to death. It is the final and most important perspective on one of the most iconic figures of the last century.