Moby Dick
- Herman Melville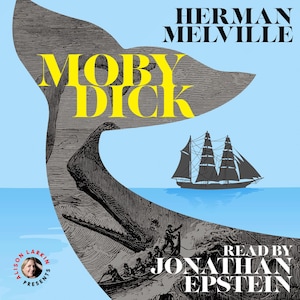 Summary
Melville's epic tale of one man versus a great white whale will delight Melville devotees as well as those who have yet to sail on this adventure in this mesmerizing new recording read by Jonathan Epstein.

The mountain whose whale-like shape first gave Melville the idea of writing Moby Dick rests in the Berkshire Hills, Massachusetts, a short drive away from The Alison Larkin Presents recording studio. "I'd been wanting to produce Moby Dick ever since I moved to Western Massachusetts" says producer Alison Larkin, "but I wanted to wait to find the perfect actor first. Then I found Jonathan Epstein, who drove up from Florida during the pandemic to record this."

At the end of the recording, Larkin interviews Jonathan Epstein and recording engineer Galen Wade about the experience recording the great novel during the pandemic.

Jonathan Epstein is an acclaimed actor who has performed on and Off-Broadway, in London's West End, and with the world-renowned Shakespeare & Company. Epstein is the two-time recipient of Boston's coveted Elliot Norton acting Award.


© Author's Republic (Audiobook)