The Man Who Fell Through the Earth
- Carolyn Wells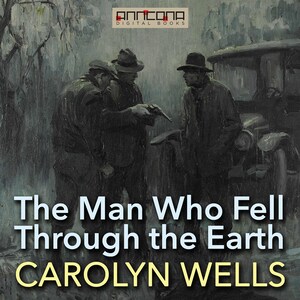 Summary
The Man Who Fell Through the Earth is a detective story by American author Carolyn Wells.

A lawyer is leaving his office on the top floor of an office building on Madison Avenue. He sees the shadows of two men fighting through the clouded glass of an office door followed by a shot from the office across the hall. He goes to investigate.

He finds no sign of either victim or assailant despite the fact that no one could have passed him in the hallway without being seen. A murder has been committed, that of the banker.

Who is the murderer? A business associate, the banker's beautiful ward, or a mysterious woman who had been in the office earlier? And what part, if any, was played by the amnesia victim pulled from the river; a man who insists that his earliest memory is of falling through a hole in the earth?

Brice never left the building. How could those arguing get by him? Brice has to call his friend, the brilliant detective Pennington Wise, to help him solve the mystery.

The Man Who Fell Through the Earthwas first published in 1919. Audiobook read by Richard Kilmer, running time 6 hours, 40 min. Unabridged full version. Also available as E-Book: ePUB, 64,700 words, average reading time 5 hours, 25 min.

Carolyn Wells (1862–1942) was an American author and poet. Carolyn Wells wrote a total of more than 170 books. During the first ten years of her career, she concentrated on poetry, humor, and children's books. However, Carolyn Wells began reading mystery stories written by Anna Katherine Green, and from then on she devoted her writings to puzzling mysteries in a similar vein.


© Anncona Media (Audiobook)
© Anncona Media (Ebook)