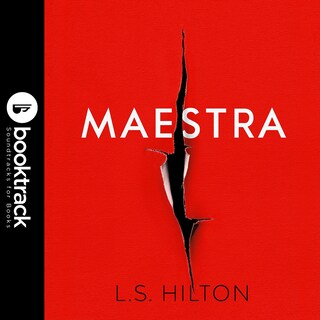 Summary
THE CONTROVERSIAL THRILLER THAT SHOCKED THE WORLD

Maestra: Booktrack Edition adds an immersive muisical soundtrack to your audiobook listening experience!*

By day Judith Rashleigh is a put-upon assistant at a London auction house.

By night she's a hostess in one of the capital's unsavoury bars.

Desperate to make something of herself, Judith knows she has to play the game. She's learned to dress, speak and act in the interests of men. She's learned to be a good girl. But after uncovering a dark secret at the heart of the art world, Judith is fired and her dreams of a better life are torn apart.

So she turns to a long-neglected friend.

A friend that kept her chin up and back straight through every past slight.

A friend that a good girl like her shouldn't have: Rage.

Fatal attraction meets The Talented Mr Ripley in this darkly decadent thriller, soon to be a major Hollywood film, that asks:

Where do you go when you've gone too far?

THE NUMBER ONE BESTSELLER

GLAMOUR'S WRITER OF THE YEAR

* Booktrack is an immersive listening experience that pairs traditional audiobook narration to complementary music and sound effects. The tempo and rhythm of the score are in perfect harmony with the action and characters throughout the audiobook. Gently playing in the background, the music never overpowers or distracts from the narration, so listeners can enjoy every minute. When you purchase this Booktrack edition, you receive the exact narration as the traditional audiobook available, with the addition of music throughout.
© Bonnier Publishing Fiction (Audiobook)