Looking for the Durrells
- Melanie Hewitt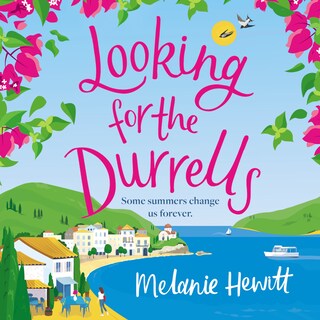 Summary
At 33, after a year that has seen her break off her engagement to Bruce, her long-time boyfriend, and then the loss of her beloved father to cancer, Penny takes time off from her career as a children's book illustrator to nurse her broken heart and loneliness. She flies out alone to Corfu to begin a month-long pilgrimage - planning to explore the island through the eyes of The Durrells, a curiosity she's had about the whimsical family life on Corfu in the 1930s.



When she arrives, she is unexpectedly drawn into the secrets of the several strangers she meets.



With secrets and pasts only she can reconcile and secrets that pull her into the world of those who live and work around the Athena restaurant in the coastal village of St George South, Penny must reevaluate her own secrets. There's Tess, the attractive, seemingly tireless widow who runs the place, to Alex, her little boy who lives for his animals and struggles to remember the face of the father he has lost. There are Guy and Rich, the seemingly carefree holiday reps, to Dimitris, the successful lawyer, now fisherman, who returned to his island and boat a decade ago - and then Nic, the Professor who carries the burden of a love he can't share or voice. And then Lily, the waitress looking for a new start, but fearing it too.



As they share their hopes and fears on a journey that runs parallel with Penny's exploration of The Durrell's story, their lives become entwined in a way none of them could have imagined or predicted.




© Harper Inspire (Audiobook)