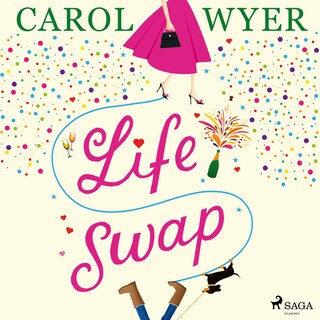 Summary
'I laughed, I laughed a lot ... you will be guaranteed to remember it ... my feel good book of 2016 so far!' The Writing Garnet

She wanted a new life and true love. But the grass isn't always greener on the other side.

All Polly has to her name is a string of failed relationships and a mountain of debt. She sees herself as a hopeless case and would do anything to change her luck.

So when she's given the opportunity to swap all she's ever known for a life of luxury, Polly jumps at the chance. Soon, it's all diamonds, spa days and celebrity parties. Now all that's missing from her life is a bit of romance. Will hunky Matt be the man to heal her broken heart?

But money can't always buy you happiness. Can the life she's always dreamed of get in the way of true love?

A witty, heart warming read, perfect for fans of Debbie Johnson, Angela Marsons, and Carole Matthews.

Praise for Life Swap:

'Brilliant and freaking cool ... The ending, OMG it was HILARIOUS. Everyone should definitely read this!' Book Reviews by Jan

'Totally didn't see the way this book was going ... witty, funny and a great pick me up.' Mum Reinvented Blog

"Life Swap... what a book! It's entertaining, witty, intelligently written and each page makes you smile. All of us have those 'uh-oh' moments in life and this novel makes us see the brighter side and that everything works out in the end. Laughter really is the best medicine - pick up this book and read it for yourself' Celia Sawyer

Praise for Carol Wyer:

'A wonderful writer of light-hearted, funny, witty and entertaining novels. Her books are like pick-me-ups!' Cath 'n'Kindle Book Reviews

Amazon UK Top 30 - Over 29,000 copies sold

Carol Wyer garnered a loyal following as an author of romantic comedies, and won The People's Book Prize Award for non-fiction (2015). In 2017 she stepped from comedy to the 'dark side' and embarked on a series of thrillers, featuring the popular DI Robyn Carter, which earned her recognition as a crime writer. The Staffordshire-based writer now has more crime novels in the pipeline, although she can still sometimes be found performing her stand-up comedy routine Laugh While You Still Have Teeth.
© Saga Egmont (Audiobook)