Kissinger the Negotiator
- James K. Sebenius, R. Nicholas Burns, Robert H. Mnookin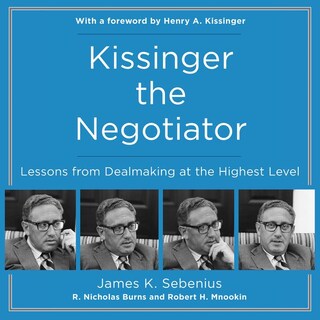 Summary
Foreword by Henry Kissinger
In this groundbreaking, definitive guide to the art of negotiation, three Harvard professors offer a comprehensive examination of one of the most successful dealmakers of all time, Henry Kissinger, and some of his most impressive achievements, including the Paris Peace Accords for which he won the 1973 Nobel Peace Prize.

Political leaders, diplomats, and business executives around the world—including every President from John F. Kennedy to Donald J. Trump—have sought the counsel of Henry Kissinger, a brilliant diplomat and political scientist whose unprecedented achievements as a negotiator have been universally acknowledged. Now, Kissinger the Negotiator provides a groundbreaking analysis of Kissinger's overall approach to making deals and his skill in resolving conflicts—expertise that holds powerful and enduring lessons.

Based on in-depth interviews with Kissinger himself about some of his most difficult negotiations and an extensive study of his writings, James K. Sebenius of Harvard Business School, R. Nicholas Burns of the Kennedy School of Government, and Robert H. Mnookin of Harvard Law School crystallize the key elements of the former Secretary of State's approach. Taut and instructive, Kissinger the Negotiator mines the long and fruitful career of this elder statesman and shows how his strategies not only apply to contemporary diplomatic challenges but also to other realms of negotiation, including business, public policy, and law.

Essential reading for current and future leaders, Kissinger the Negotiator is an invaluable guide to reaching agreements.


© HarperAudio (Audiobook)