How the Elephant Got Its Trunk and Other Wild Animal Stories
- Rudyard Kipling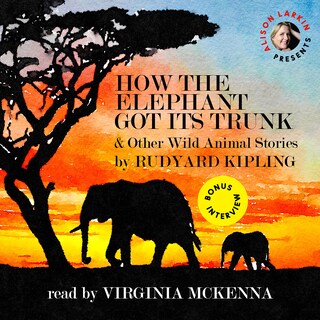 Summary
"In the High and Far-Off Times…there was one Elephant--a new Elephant--an Elephant's Child--who was full of 'satiable curiosity, and that means he asked ever so many questions..."
Rudyard Kipling's famous Just So Stories provide imaginative answers to the many questions children ask about the world and the animals we share it with.
In this magical audio recording, iconic actress and wildlife conservationist Virginia McKenna OBE brings the best beloved of Kipling's stories to a brand new audience. The reading is followed by a fascinating hour-long interview in which McKenna talks with Alison Larkin about her life, her work rescuing wild animals, the Born Free Foundation and how children of all ages can help make a difference. She also reads a few poems of her own inspired by animals she has known!
Fifteen percent of the profits from the sale of this audiobook will be donated to Born Free USA.
Just So Stories included are: How the Elephant Got Its Trunk, The Cat That Walked By Himself, How the Whale Got His Throat, How the Camel Got His Hump, How the Rhinoceros Got His Skin, How the Leopard Got His Spots, The Sing-Song of Old Man Kangaroo, The Beginning of Armadillos, The Crab That Played with the Sea, and The Butterfly That Stamped. And from The Jungle Book, Rikki-Tikki-Tavi
About Virginia McKenna
Virginia McKenna starred in the multi-award-winning Born Free, in which she and her husband Bill Travers depicted the story of conservationists George and Joy Adamson and their reintroduction of Elsa, the orphaned lion cub, into the wild. That film, and all it still stands for, changed their lives.

© Author's Republic (Audiobook)