Hotter than Fire: A Bad Boy Erotica Short Story
- Kathleen Hope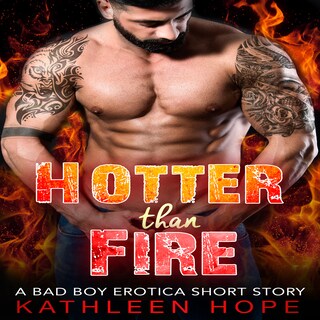 Summary
"My turn," she said and let her hands slip down his abdomen to the fly of his jeans. Her fingers still shook and he could see it was slowing her progress, making her cupid bow lips twist in frustration. Whether she was nervous or full of anticipation, he didn't know, but he swept in and finished the job, ditching the jeans in a hurry. As his cock sprung free, it took every ounce of restraint he possessed not to rip the tiny patch of fabric from her body and bury himself to the hilt in a single thrust. Instead, he gritted his teeth and slid off her G-string as carefully as he could—which amounted to restrained enough that he only managed to tear one side of the flimsy garment.
She was naked, completely naked, and her smooth pussy glistened from between her barely parted thighs. She was wet and ready for him, and as her hand clasped around his hard cock, he wasn't certain he'd be able to hold out another second.
"Just let me touch you," he whispered hoarsely as he grabbed her wrist to still her hand.
She looked up at him, confusion and inquisitiveness filling her heated gaze.
"I want you so bad, Carolina, I'm not going to last thirty seconds if I'm not careful," he explained and she dropped her hand to her side.
His hands moved of their own volition, one drawn to her tits and the other slipping between the silky, slippery folds of her slit. Her hips rocked toward him as he found her engorged clit, rubbing slowly at first. But she was so responsive, her hips writhed against him and her moans grew louder quickly.
He leaned her back against the car behind her and as he pulled his hand away, he could see her wetness glistening on her thighs. His mouth watered in anticipation, but he knew he was out of time. He wanted to touch and taste every inch of her body, but he was fairly certain all the blood in his veins had drained to his cock and he throbbed painfully. He needed relief. He needed to feel her hot pussy sheathing his dick. And he needed it now.
He hoisted her up on the hood of the car and the position put her pussy at perfect height. He stepped between her parted thighs and the tip of him pressed against her. Still, he forced himself to...
© Author's Republic (Audiobook)