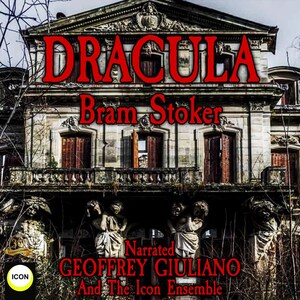 Summary
A POWERFUL FULL CAST DRAMATIC MARATHON

"There is a reason why all things are as they are."

Dracula author Bram Stoker was born on November 8, 1847 in Dublin. Stoker was bedridden with an unknown illness until he started school at the age of seven when he made a complete recovery. Of this time, Stoker wrote, "I was naturally thoughtful, and the leisure of long illness gave opportunity for many thoughts which were fruitful according to their kind in later years." He was educated in a private school run by the Reverend William Woods.

Stoker visited the English coastal town of Whitby in 1890, and that visit was said to be part of the inspiration for Dracula. He began writing novels while working as the manager for London's Lyceum Theatre, beginning with The Snake's Pass in 1890 and Dracula in 1897. Stoker was part of the literary staff of The Daily Telegraph in London, and he wrote other fiction, including the horror novels The Lady of the Shroud (1909) and The Lair of the White Worm (1911).

Dracula is an epistolary novel, written as a collection of realistic but completely fictional diary entries, telegrams, letters, ship's logs, and newspaper clippings, all of which added a level of detailed realism to the story, a skill which Stoker had developed as a newspaper writer. At the time of its publication, Dracula was considered a "straightforward horror novel" based on imaginary creations of supernatural life. "It gave form to a universal fantasy and became a part of popular culture.

The original 541-page typescript of Dracula was believed to have been lost until it was found in a barn in northwestern Pennsylvania in the early 1980s. It consisted of typed sheets with many emendations and handwritten on the title page was "THE UN-DEAD." The author's name was shown at the bottom as Bram Stoker. Author Robert Latham remarked: "the most famous horror novel ever published, its title changed at the last minute."
© Author's Republic (Audiobook)