Digital Marketing for Beginners
- Michael Branding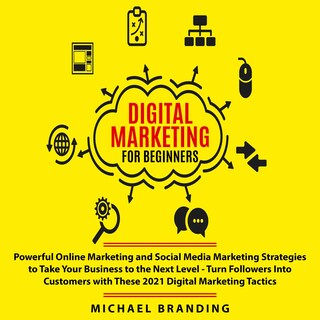 Summary
If you want to generate 10,000$ a month with digital marketing, then keep reading!

Entrepreneurs and influencers have finally discovered the power of digital marketing and having a profitable online business. In fact, during 2020, online stores have seen a growth of over 26% and this trend will keep on going for a very long time.

However, even if the numbers look incredible, big brands and companies have not saturated the entire market yet. This allows retailers and new entrepreneurs just like you to take full advantage of users' attention, which is greatly underpriced at this moment.

This is why you need to start today, having a clear strategy to monetize your audience.

Here is what you will discover in this book:

- The 6 secret steps to every effective digital marketing plan and how you can use them to take your online business to the next level

- The only way to create an editorial plan that puts money into your pocket

- The KPIs used by the most successful online businesses to monitor results and increase sales

- A special tool to automate lead generation and leverage artificial intelligence to increase sales

- A detailed step by step guide to Facebook Ads and Google Ads and how you can combine them to put even more money into your pocket

- and much, much more!

The beauty of digital marketing is that it can be done with little money. Being able to position yourself effectively is the best way to assure your business a long lasting success and this book will show you how to do it!

This is the best time to start focusing on an online business, as people are spending more time than ever on their phones.

It is time to turn their attention into sales!

Click "Buy Now" and get this book today!
© Author's Republic (Audiobook)