Deep Sleep Meditation
- Hypnotherapy Academy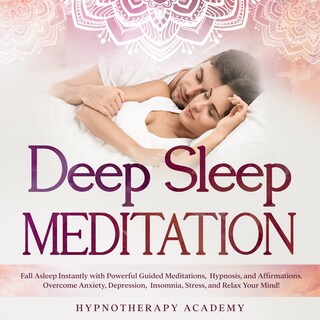 Summary
SLEEP TALK-DOWN, FALL ASLEEP FAST INTO A DEEP DREAM STATE, GUIDED SLEEP MEDITATION WITH SLEEP MUSIC!

A beautiful guided sleep meditation that will have you falling asleep in minutes! This is a sleep talk down hypnosis to help you release the day behind you and to fall asleep.

Calm your mind and improve your sleep with your deep sleep guided meditation.

> Do you struggle with falling asleep each night?

> Are you overwhelmed by anxiety, depression, insomnia, or stress?

> Are you looking for an all-natural remedy to relax your mind and fall asleep instantly?

--You're in the right place!--

Studies show that sleep deprivation can lead to memory issues, high blood pressure, and poor

emotion regulation. If you already suffer from any of these issues, it's time to make a change!

With "Deep Sleep Meditation" by Hypnotherapy Academy, you get powerful guided

sleep meditations that will help you fall asleep FAST.

Using this powerful audiobook, you will get:

- Guided meditations that will make falling asleep as easy as 1, 2, 3

- Beginner-friendly scripts that help you have a deep relaxing night's sleep

- Meditation techniques and breathing exercises that quiet the mind

- Relaxing visualizations for peace of mind, energy healing, and self-healing

And much more!

You'll never get better sleep…

So, if you're ready to relax your mind, relieve yourself of stress, and have restful sleep each

night, "Deep Sleep Meditation" is for you!

SCROLL UP, GET THE AUDIOBOOK, AND START LISTENING!
© Author's Republic (Audiobook)