Daughter of the Empire
- Raymond E. Feist, Janny Wurts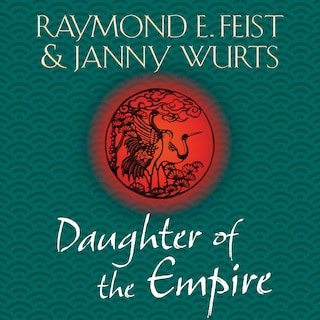 Summary
Book one in the magnificent Empire Trilogy by bestselling authors Raymond E. Feist and Janny Wurts.

Enter the mysterious and exotic world of Kelewan…

Mara, the youngest child of the ancient and noble Acoma family, is about to take her pledge of servitude to the goddess Lashima when the ceremony is disrupted by news of her father and brother's death in battle.

Despite her grief, as the only surviving member of her house, Mara must now take up the mantles of Ruling Lady. But she soon discovers betrayal at the heart of her family's loss, and the Acoma's enemies have brought her house to the brink of utter destruction.

Mara, an inexperienced political player, must draw on all her wit, intelligence and cunning to navigate the ruthless Game of the Council, regain the honour of House Acoma and secure the future of her family. But with assassins waiting around every corner, it might take everything Mara has simply to survive.

Daughter of the Empire is the magnificent first book in The Empire Trilogy by Raymond E. Feist and Janny Wurts.


© HarperCollins UK (Audiobook)