The Complete Thrums Trilogy: Auld Licht Idylls, A Window in Thrums & The Little Minister
- J. M. Barrie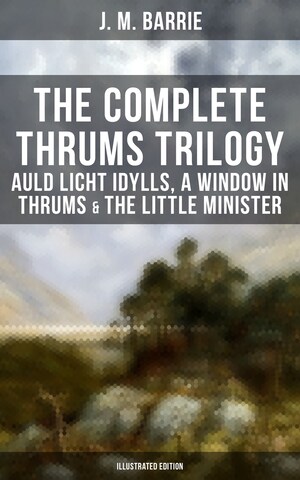 Summary
Auld Licht Idylls depicts life in late 19th century small town of Thrums in Scotland. The story revolves around the citizens of Thrums and more especially the members of one of the four churches in that community, of which the Auld Licht Kirk happens to be more committed Calvinist's than any other group in Scotland. The novel shows how a church, no matter how well intended, can become twisted by a human attempt at perfection.
A Window in Thrums is another tale of a small Scottish town of Thrums, where an invalid old lady watches her world from the window. She witnesses various events in this early 20th century place where small occurrences take on great importance.
The Little Minister – Gavin Dishart is a slight of frame young man, determined to take his corner of the world by storm. He becomes the minister in Thrums and idol of the community, but he falls in love with free spirited Babbie and their romance is not well received among the citizens of Thrums. As her full background comes to light, things get complicated for Gavin.
Sir James Matthew Barrie (1860-1937) was a Scottish novelist and playwright, best remembered today as the creator of Peter Pan. He was born and educated in Scotland but moved to London, where he met the Llewelyn Davies boys, who inspired him to write about a baby boy who has magical adventures in Kensington Gardens, then to write Peter Pan, or The Boy Who Wouldn't Grow Up, a "fairy play" about an ageless boy and an ordinary girl named Wendy who have adventures in the fantasy setting of Neverland.