Bodies from the Library 3
- Agatha Christie, Anthony Berkeley, Dorothy L. Sayers and more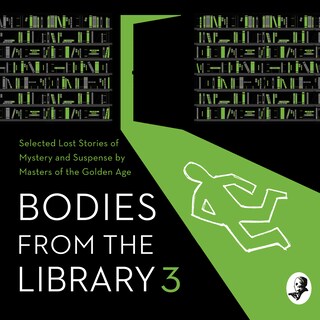 Summary
This anthology of rare stories of crime and suspense brings together 16 tales from the Golden Age of Detective Fiction for the first time in book form.

The Golden Age of detective fiction had begun inauspiciously with the publication of E.C. Bentley's schismatic Trent's Last Case in 1913, but it hit its stride in 1920 when both Agatha Christie and Freeman Wills Crofts – latterly crowned queen and king of the genre – had crime novels published for the first time. They ushered in two decades of exemplary mystery writing, the era of the whodunit, the impossible crime and the locked-room mystery, with stories that have thrilled and baffled generations of readers.

This new volume in the Bodies from the Library series features the work of 16 prolific authors who, like Christie and Crofts, saw their popularity soar during the Golden Age. Aside from novels, they all wrote short fiction – stories, serials and plays – and although most of them have been collected in books over the last 100 years, here are the ones that got away…

In this book you will encounter classic series detectives including Colonel Gore, Roger Sheringham, Hildegarde Withers and Henri Bencolin; Hercule Poirot solves 'The Incident of the Dog's Ball'; and Dorothy L. Sayers' chilling 'The House of the Poplars' is published for the first time.

With a full-length novella by John Dickson Carr, this diverse collection concludes with some early 'flash fiction' commissioned by Collins' Crime Club in 1938. Each mini story had to feature an orange, resulting in six very different tales from Peter Cheyney, Ethel Lina White, David Hume, Nicholas Blake, John Rhode and – in his only foray into writing detective fiction – the publisher himself, William Collins.


© HarperCollins UK (Audiobook)