Bad Boy Erotica: Enticing the Bad Boy
- Kathleen Hope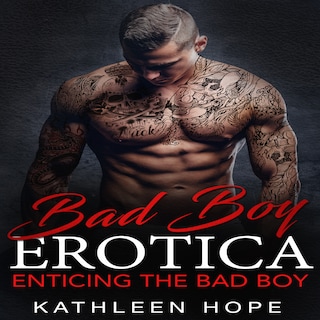 Summary
She stared at the reflection of the woman in the mirror, turning this way and that, and watching the way the bedroom lights glinted off everything from her silver halter-style gown to her freshly manicured nails. The expensive clothes, the real jewelry—things she had never owned her entire life—did nothing to make Sarah feel at home in the role she was about to play. She was about to be a rich woman on the prowl, and it just wasn't her. She didn't want it to be her. But she didn't have a choice.
Turning away from the mirror, she took a deep breath and grabbed the Prada clutch off the bed. She'd anticipated this moment for weeks. This was it.
Glancing around the luxurious hotel suite on her way to the door, she tried not to think about just how much money she was spending on the damn suite. It was beautiful, of course, all fourteen-hundred and thirty-two square feet of rich solid woods, sumptuous fabrics and expensive artwork—though an abstract painting of random color splotches wasn't exactly her idea of fine artistry. But what did she know? She'd only submersed herself in this ridiculous world thirty-six hours ago; a world of people with far too much money and nothing better to do than show it off, in her opinion...
WARNING: This book contains explicit sex scenes and is intended for mature audience. 18 years and older only!
© Author's Republic (Audiobook)