B. J. Harrison Reads The Yellow Wallpaper
- Charlotte Perkins Gilman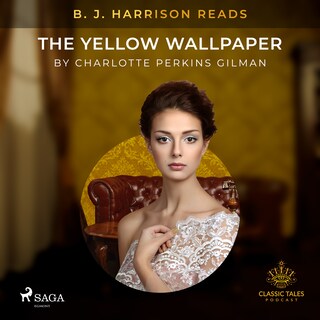 Summary
A woman is suffering from severe postpartum psychosis and her husband takes her to a colonial mansion where they can spend the summer. The woman is however closed and isolated in a single room where her nervous depression gets worse with the time. The only thing she sees all day long is a yellow wallpaper which she studies in so many details that she finally finds a creeping woman behind the pattern. The summer is over and the family is about to go home. The husband opens the door to his wife's room. What he sees is however both unexpected and horrifying.

B. J. Harrison started his Classic Tales Podcast back in 2007, wanting to breathe new life into classic stories. He masterfully plays with a wide array of voices and accents and has since then produced over 500 audiobooks. Now in collaboration with SAGA Egmont, his engaging narration of these famous classics is available to readers everywhere.

Charlotte Perkins Gilman was an American author who lived in the period 1860-1935. Among her literary legacy are many short stories, novels and non-fiction works, but she was also interested in humanism and held many lectures on social reform and responsibilities. She was a feminist who wanted to prove to other women that they could lead the life they wanted. The topic was often depicted in her works and many of her main characters were women who had to deal with mental breakdowns, everyday problems or lack of understanding from society's side. Some of Gilman's best known works are "The Yellow Wallpaper", "His Religion and Hers", and "Herland". Her autobiography "The Living of Charlotte Perkins Gilman: An Autobiography" was published in the same year she took her own life.
© Saga Egmont (Audiobook)