B. J. Harrison Reads The Thirty-Nine Steps
- John Buchan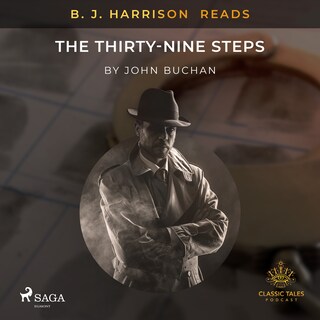 Summary
After a long stay in South Africa, Richard Hannay arrives back in London just before the outbreak of World War One. There he meets Franklin Scudder, who claims to be investigating the Black Stone – a German spy organization. Hannay gives a shelter to the man but one day he finds him dead. Now the Scotsman fears that he might be the next one on the Black Stone's list. Hannay decides to go back to his native Scotland with the notebook Scudder gave him before he was murdered.

Who is responsible for Scudder's murder? Is it the Black Stone or it is someone else? How will Hannay be involved in this story? What will he find in the mysterious notebook? Can he deal with the German spy organization on his own?

Find all the answers in John Buchan's adventure novel "The Thirty-Nine Steps" from 1915.

B. J. Harrison started his Classic Tales Podcast back in 2007, wanting to breathe new life into classic stories. He masterfully plays with a wide array of voices and accents and has since then produced over 500 audiobooks. Now in collaboration with SAGA Egmont, his engaging narration of these famous classics is available to readers everywhere.

John Buchan (1875 - 1940) was a Scottish writer, historian, lawyer and government administrator. At the age of seventeen he studied classics and mathematics at Glasgow University. With his second scholarship from Oxford Brasenose College, Buchan graduated with a Doctor of Laws degree. He admired Sir Walter Scott and was inspired by his works. John Buchan's most famous work is the spy thriller novel "The Thirty-Nine Steps", which was written during First World War.
© Saga Egmont (Audiobook)