B. J. Harrison Reads The Dream of a Ridiculous Man
- Fyodor Dostoevsky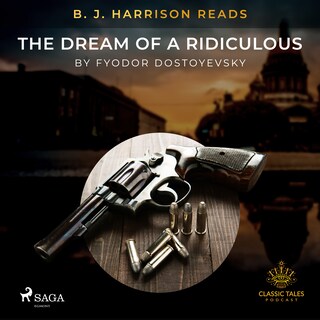 Summary
A desperate man wanders around the streets of St. Petersburg. His life having lost its meaning, he is determined to kill himself. Nothing matters anymore and there is no point in making his existence even more painful than it already is. He figures it would be best to shoot himself. A poor little girl crosses his path and begs for some help, but the miserable man sends her away. He goes home and takes the revolver. Then a strange thought pops up in his mind. He feels guilt for not helping the girl. He spends some hours contemplating this and trying to put his conscience to sleep. Eventually, he falls asleep and a strange dream comes up in his mind. Will he wake up a new man or will he be even more determined to end his life? Find out the answers in "The Dream of a Ridiculous Man".

B. J. Harrison started his Classic Tales Podcast back in 2007, wanting to breathe new life into classic stories. He masterfully plays with a wide array of voices and accents and has since then produced over 500 audiobooks. Now in collaboration with SAGA Egmont, his engaging narration of these famous classics is available to readers everywhere.

Fyodor Dostoevsky was a Russian author who lived in the period 1821-1881. His literary legacy consists of many short stories, novels and essays. He used his works to depict the problems of his time. He discussed the human psychology and therefore he is considered to be the greatest psychologist in the history of literature. Dostoevsky criticized the society and the political situation of 19th-century Russia. He fearlessly wrote about Russia's revolutionaries. Through his works, he gave voice to many of his thoughts about domination and self-destruction. "Notes from the Underground", "Crime and Punishment" and "The Idiot" are but a small part of Dostoevsky's enormous literary legacy.
© Saga Egmont (Audiobook)