B. J. Harrison Reads The Burned House
- Vincent O'sullivan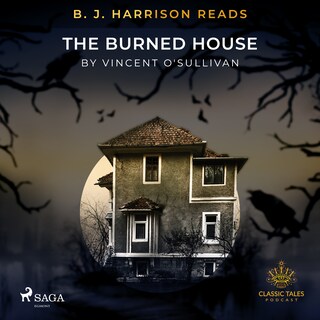 Summary
"The Burned House" is a ghost short story by Vincent O'Sullivan in which a benighted traveler stumbles upon a deserted house right in the middle of nowhere. Soon, strange things begin to happen and becomes involved in a series of supernatural events. A tale of vivid imagination, terrors, and mystery, "The Burned House" includes elements from the science fiction genre as well as classic horror elements such as murder, suicide, and violence, making a chilling yet engaging read.

B. J. Harrison started his Classic Tales Podcast back in 2007, wanting to breathe new life into classic stories. He masterfully plays with a wide array of voices and accents and has since then produced over 500 audiobooks. Now in collaboration with SAGA Egmont, his engaging narration of these famous classics is available to readers everywhere.

Vincent O'Sullivan (1868-1940) was an American writer of short stories, poetry, and criticism. His work was characterised by hopelessness and decadence, and was largely influenced by the hardships he experienced in his own life. His most popular short story collection is "A Book of Bargains", and some of his the most famous stories are "The Burned House", "Will", and "When I Was Dead".
© Saga Egmont (Audiobook)