B. J. Harrison Reads Mixer Moves in Society
- P.G. Wodehouse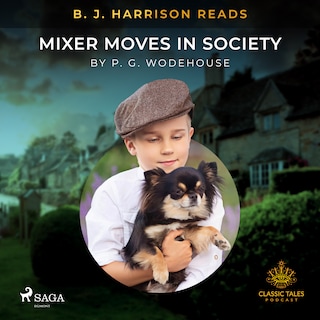 Summary
B. J. Harrison brings us yet another classic from the master of humor, P. G. Wodehouse. Our narrator is a sociable dog who goes by the name of Mixer. One day, he is hit by a car, and out steps Peter. The boy takes a liking to the dog and renames him Fido, taking him into his house. Soon enough, Fido becomes increasingly worried that his new owner will get tired of him and jeopardize his new and happy life. This short story dating back to the early 20th century is not short on surprising, humorous twists.

B. J. Harrison started his Classic Tales Podcast back in 2007, wanting to breathe new life into classic stories. He masterfully plays with a wide array of voices and accents and has since then produced over 500 audiobooks. Now in collaboration with SAGA Egmont, his engaging narration of these famous classics is available to readers everywhere.

P. G. Wodehouse (1881-1975), born Sir Pelham Grenville Wodehouse, was a British author and one of the most prominent humorists of the 20th century. His memorable characters include the likes of Bertie Wooster and his valet Jeeves, who appeared in novels such as "Joy in the Morning" (1946) and "The Mating Season" (1949). His novels, short stories and musical comedies have been adapted numerous times for the screen and stage. These adaptations include "Heavy Weather" (1995), a BBC-produced television film based on Wodehouse's eponymous novel.
© Saga Egmont (Audiobook)