B. J. Harrison Reads A Christmas Tree and a Wedding
- Fyodor Dostoevsky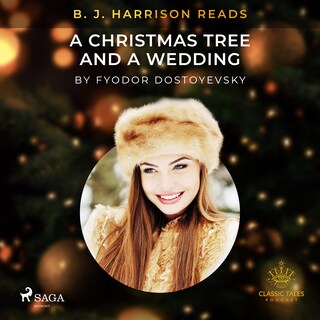 Summary
The narrator in the story has just came back from a wedding, but he wants to take us to a Christmas party that he was at several years ago and where he witnessed how big of a difference there is between the social classes. He saw how the rich people's children received expensive gifts while one poor boy, the son of the governess, received only a book without covers. The narrator observed something else too: children do not build relationships based on wealth. They are pure and free from prejudices – until the society changes them. Do you want to know what the connection is between this Christmas party and the wedding? Between one rich girl and one poor boy? "A Christmas Tree and a Wedding" by Fyodor Dostoevsky holds the answers.

B. J. Harrison started his Classic Tales Podcast back in 2007, wanting to breathe new life into classic stories. He masterfully plays with a wide array of voices and accents and has since then produced over 500 audiobooks. Now in collaboration with SAGA Egmont, his engaging narration of these famous classics is available to readers everywhere.

Fyodor Dostoevsky was a Russian author who lived in the period 1821-1881. His literary legacy consists of many short stories, novels and essays. He used his works to depict the problems of his time. He discussed the human psychology and therefore he is considered to be the greatest psychologist in the history of literature. Dostoevsky criticized the society and the political situation of 19th-century Russia. He fearlessly wrote about Russia's revolutionaries. Through his works, he gave voice to many of his thoughts about domination and self-destruction. "Notes from the Underground", "Crime and Punishment" and "The Idiot" are but a small part of Dostoevsky's enormous literary legacy.
© Saga Egmont (Audiobook)