B. J. Harrison Reads 20,000 Leagues Under the Sea
- Jules Verne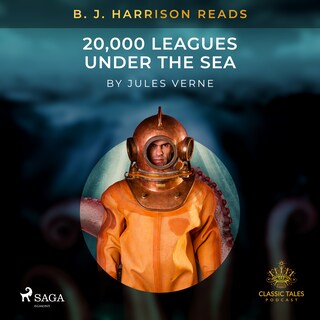 Summary
Pierre Aronnax is a famous marine biologist, who works together with his manservant Conseil and harpoonist Ned Land. The three brave men are tirelessly hunting a mysterious sea monster in the dangerous sea waters. But a great danger loom over them. Why are the three sailors chasing the monster? Why do they want to kill it at any cost? Will they succeed or will the creature attack and kill them? Find out all the answers in Jules Verne's classic science fiction and adventure novel "20,000 Leagues Under the Sea" from 1870.

B. J. Harrison started his Classic Tales Podcast back in 2007, wanting to breathe new life into classic stories. He masterfully plays with a wide array of voices and accents and has since then produced over 500 audiobooks. Now in collaboration with SAGA Egmont, his engaging narration of these famous classics is available to readers everywhere.

Jules Verne (1828-1905) was a French novelist who mostly wrote adventure fiction inspired by the scientific advances of the 19th century. With the help of editor Pierre-Jules Hetzel, he wrote a series of books called "Extraordinary Travels", which includes "Journey to the Center of the Earth" (1864), "Twenty Thousand Leagues Under the Sea" (1870), and "Around the World in Eighty Days" (1873). Widely popular with both children and adults, Verne is one of the most translated authors of all times, and still inspires people the world over today.
© Saga Egmont (Audiobook)