B. J. Harrison Reads The Mysterious Key and What It Opened
- Louisa May Alcott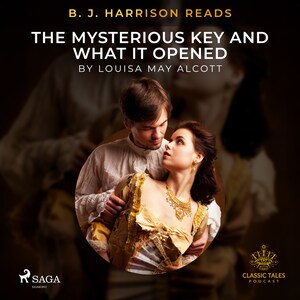 Summary
Alice is pregnant with her husband Sir Richard Trevlyn's child. One day, she listens to a conversation between her husband and a visitor through a keyhole. What she hears is shocking enough to make her faint, and when she comes to, her husband is found dead. Years later, the sixteen-year-old Paul applies for a job at the estate, and it becomes clear that there is more to him than meets the eye. What happened to Sir Richard Trevlyn, and who is the mysterious Paul? Louisa May Alcott's mystery novella from the 19th century, read by B.J. Harrison, is filled with romance and secrets.

B. J. Harrison started his Classic Tales Podcast back in 2007, wanting to breathe new life into classic stories. He masterfully plays with a wide array of voices and accents and has since then produced over 500 audiobooks. Now in collaboration with SAGA Egmont, his engaging narration of these famous classics is available to readers everywhere.

Louisa May Alcott (1832-1888) was an American writer of numerous beloved novels, short stories and poems. She was a feminist, and many of her stories are loosely based on her own life experiences. She is primarily known for her young adult fiction but also wrote gothic thrillers, albeit anonymously, and sensational stories under the pen name A.M. Barnard. One of her best-known works is "Little Women", a novel that has been turned into numerous film and television adaptations, such as the 1994 film Little Women with Winona Ryder as the protagonist Jo March.
© Saga Egmont (Audiobook)