B. J. Harrison Reads The Melancholy Hussar of the German Legion
- Thomas Hardy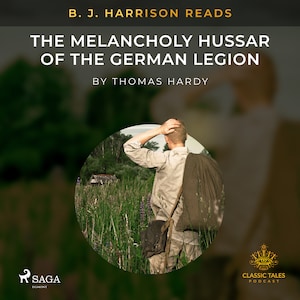 Summary
"The Melancholy Hussar of the German Legion" is a short story by Thomas Hardy that follows the encounter between a young woman and a homesick soldier. The sparks of passion immediately set their souls on fire, but their love is hampered by social conventions and prejudice. In a direct, almost fatalistic way, Thomas Hardy paints a rather gloomy picture of the social conditions of the time, and how often human relationships fell victim to its whims. An extremely touching and heartbreaking story, it is definitely recommended to fans of the author and of Victorian literature in general.

B. J. Harrison started his Classic Tales Podcast back in 2007, wanting to breathe new life into classic stories. He masterfully plays with a wide array of voices and accents and has since then produced over 500 audiobooks. Now in collaboration with SAGA Egmont, his engaging narration of these famous classics is available to readers everywhere.

Thomas Hardy (1840-1928) was a British writer and poet from the Victorian era. Influenced by Romanticism and the Enlightenment, many of his stories have a hint of the supernatural. He is famous for his semi-fictional world of Wessex, where his most memorable characters suffered their passions and life choices. His most famous works include the novels "Tess of the D'Urbervilles", "Far From the Madding Crowd", and "The Mayor of Casterbridge", as well as the collection of short stories "Wessex Tales".
© Saga Egmont (Audiobook)