B. J. Harrison Reads Barbara of the House of Grebe
- Thomas Hardy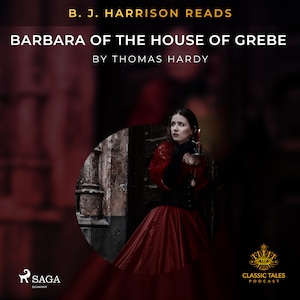 Summary
"Barbara of the House of Grebe" is a short story from Thomas Hardy's collection "A Group of Noble Dames". It is a dark that intertwines madness and desire. Barbara Grebe is already promised to a wealthy lord when she elopes with another young man, Edmond Willowes. He suffers a terrible disfigurement, and the couple's love begins to falter. Hardy's pessimism is revealed in his total rejection of the idea of eternal love, certain of its ephemerality. He writes a tale of female desire, madness, doomed love, and social roles giving "Barbara of the House of Grebe" immense psychoanalytic depth.

B. J. Harrison started his Classic Tales Podcast back in 2007, wanting to breathe new life into classic stories. He masterfully plays with a wide array of voices and accents and has since then produced over 500 audiobooks. Now in collaboration with SAGA Egmont, his engaging narration of these famous classics is available to readers everywhere.

Thomas Hardy (1840-1928) was a British writer and poet from the Victorian era. Influenced by Romanticism and the Enlightenment, many of his stories have a hint of the supernatural. He is famous for his semi-fictional world of Wessex, where his most memorable characters suffered their passions and life choices. His most famous works include the novels "Tess of the D'Urbervilles", "Far From the Madding Crowd", and "The Mayor of Casterbridge", as well as the collection of short stories "Wessex Tales".
© Saga Egmont (Audiobook)