At the Gate of Samaria
- William John Locke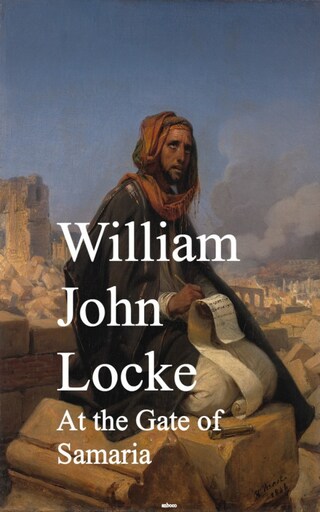 Summary
William John Locke`s first novel: At the Gate of Samaria: "t was a severe room, scrupulously neat. Along one side ran a bookcase, with beaded glass doors, containing, as one might see by peering through the spaces, the collected, unread literature of two stern generations. A few old prints, placed in bad lights, hung on the walls. In the centre of the room was a leather-covered library table, with writing materials arranged in painful precision. A couch was lined along one wall, in the draught of the door. On either side of the fireplace were ranged two stiff leather armchairs.

In one of these chairs sat an old man, in the other a faded woman just verging upon middle age. The old man was looking at a picture which he supported on his knees-a narrow, oblong strip of canvas nailed on to a rough wooden frame. The woman eyed him with some interest, as if awaiting a decision.

They were father and daughter, and bore a strange family resemblance to each other. Both faces were pale, their foreheads high and narrow, marked by faint horizontal lines, their eyes gray and cold, their upper lips long and thin, setting tightly, without mobility, upon the lower. The only essential point of difference was that the father's chin was weakly pointed, the daughter's squarer and harder. Both faces gave one the impression of negativeness, joylessness, seeming to lack the power of strong emotive expression. One can see such, minus the refinement of gentle birth and social amenities, in the pews of obscure dissenting chapels, testifying that they have been led thither not by strong convictions, but by the force of mild circumstance.

Indeed, as is the case with hundreds of our upper middle-class families, the Davenants had descended from a fierce old Puritan stock, and though the reality of their Puritanism had gradually lost itself in the current of more respectable orthodoxy, its shadow hung over them still.