Always Remember Your Name
- Andra & Tatiana Bucci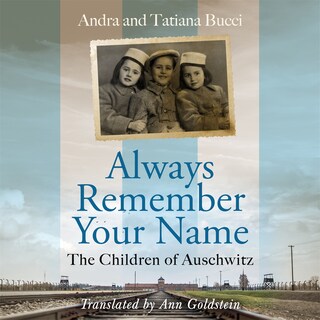 Summary
A powerful and intensely moving true-life account from two sisters who were among the very few children to survive Auschwitz.

On 28 March 1944, Italian sisters Tati (six) and Andra (four) were roused from their sleep and taken to Auschwitz, to the infamous Kinder Block presided over by Josef Mengele, the Angel of Death. By the time Auschwitz was liberated, 230,000 children had been murdered, and the sisters were among only 70 child survivors.

Throughout their ordeal in the camp and the liberation of Auschwitz, their long journey from Poland to Czechoslovakia and finally to Lingfield House in Britain, they hung on to their promise to their mother to 'always remember your name'. They never forgot they were Tati and Andra Bucci, and it was this connection to their heritage that brought them miraculously back to their parents, years later and many countries away. The sisters overcame their trauma to live long lives, bearing witness as survivors of the Holocaust.

Always Remember Your Name is an unforgettable story of the power of sisterhood, and of how a mother's love triumphed over impossible odds.
© Bonnier Publishing Fiction (Audiobook)