All's Well That Ends Well
- William Shakespeare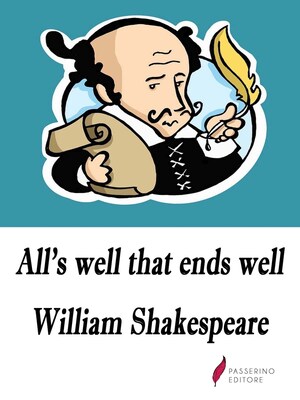 Summary
All's Well That Ends Well is a play by William Shakespeare, published in the First Folio in 1623, where it is listed among the comedies. There is a debate regarding the dating of the composition of the play, with possible dates ranging from 1598 to 1608. Bertram is compelled to marry Helena. Bertram refuses to consummate their marriage. He goes to Italy. In Italy he courts Diana. Helena meets Diana. They perform the bed trick. The play is considered one of Shakespeare's "problem plays", a play that poses complex ethical dilemmas that require more than typically simple solutions.

William Shakespeare (26 April 1564 – 23 April 1616) was an English playwright, poet, and actor, widely regarded as the greatest writer in the English language and the world's greatest dramatist. He is often called England's national poet and the "Bard of Avon" (or simply "the Bard"). His extant works, including collaborations, consist of some 39 plays, 154 sonnets, three long narrative poems, and a few other verses, some of uncertain authorship.
His plays have been translated into every major living language and are performed more often than those of any other playwright.