3 Books To Know Nobel Prize in Literature
- Rudyard Kipling, Anatole France, August Nemo and more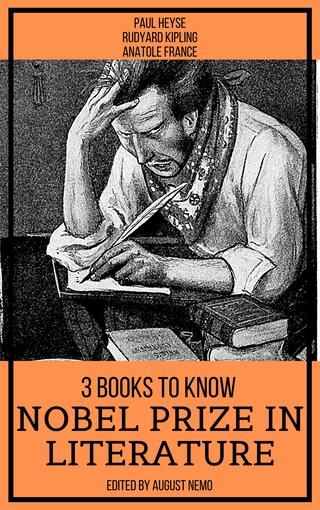 Summary
Welcome to the3 Books To Knowseries, our idea is to help readers learn about fascinating topics through three essential and relevant books.
These carefully selected works can be fiction, non-fiction, historical documents or even biographies.
We will always select for you three great works to instigate your mind, this time the topic is:Nobel Prize in Literature.

- The Children of the World by Paul Heyse.
- Kim by Rudyard Kipling.
- Thais by Anatole France.Paul Heyse was a distinguished German writer and translator. He was awarded the Nobel Prize for Literature in 1910 "as a tribute to the consummate artistry, permeated with idealism, which he has demonstrated during his long productive career as a lyric poet, dramatist, novelist and writer of world-renowned short stories."
Rudyard Kipling was an English journalist, short-story writer, poet, and novelist. Kipling in the late 19th and early 20th centuries was among the United Kingdom's most popular writers. Henry James said, "Kipling strikes me personally as the most complete man of genius, as distinct from fine intelligence, that I have ever known." In 1907, he was awarded the Nobel Prize in Literature, as the first English-language writer to receive the prize, and at 41, its youngest recipient to date.
Anatole France was a French poet, journalist, and novelist with several best-sellers. Ironic and skeptical, he was considered in his day the ideal French man of letters. He was a member of the Académie française, and won the 1921 Nobel Prize in Literature "in recognition of his brilliant literary achievements, characterized as they are by a nobility of style, a profound human sympathy, grace, and a true Gallic temperament".
This is one of many books in the series 3 Books To Know. If you liked this book, look for the other titles in the series, we are sure you will like some of the topics.