3 Books To Know Travel Literature
- Herman Melville, Joseph Conrad, Nellie Bly and more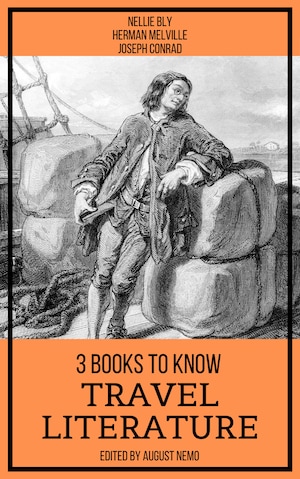 Summary
Welcome to the3 Books To Knowseries, our idea is to help readers learn about fascinating topics through three essential and relevant books.
These carefully selected works can be fiction, non-fiction, historical documents or even biographies.
We will always select for you three great works to instigate your mind, this time the topic is:Travel Literature.

- Heart of Darkness by Joseph Conrad
- Typee, by Herman Melville
- Around the World in Seventy-Two Days Nellie BlyHeart of Darkness (1899) is a novella by Polish-British novelist Joseph Conrad about a narrated voyage up the Congo River into the Congo Free State in the so-called Heart of Africa. Charles Marlow, the narrator, tells his story to friends aboard a boat anchored on the River Thames. This setting provides the frame for Marlow's story of his obsession with the ivory trader Kurtz, which enables Conrad to create a parallel between what Conrad calls "the greatest town on earth", London, and Africa as places of darkness.
Typee: A Peep at Polynesian Life is the first book by American writer Herman Melville, published first in London, then New York, in 1846. Considered a classic in travel and adventure literature, the narrative is partly based on the author's actual experiences on the island Nuku Hiva in the South Pacific Marquesas Islands in 1842, liberally supplemented with imaginative reconstruction and adaptation of material from other books. The title is from the province Tai Pi Vai. Typee was Melville's most popular work during his lifetime; it made him notorious as the "man who lived among the cannibals".
Around the World in Seventy-Two Days is an 1890 book by journalist Elizabeth Jane Cochrane, writing under her pseudonym, Nellie Bly. The chronicle details her 72-day trip around the world, which was inspired by the book, Around the World in Eighty Days by Jules Verne. She carried out the journey for Joseph Pulitzer's tabloid newspaper, the New York World.
This is one of many books in the series 3 Books To Know. If you liked this book, look for the other titles in the series, we are sure you will like some of the topics.