3 books to know Children's Literature
- Lewis Carroll, L. Frank Baum, J. M. Barrie and more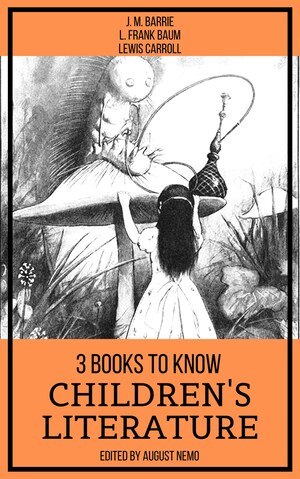 Summary
Welcome to the3 Books To Knowseries, our idea is to help readers learn about fascinating topics through three essential and relevant books.
These carefully selected works can be fiction, non-fiction, historical documents or even biographies.
We will always select for you three great works to instigate your mind, this time the topic is:Children's Literature:

- Alice's Adventures in Wonderland by Lewis Carroll
- The Wonderful Wizard of Oz by L. Frank Baum
- Peter Pan by J. M. BarrieAlice's Adventures in Wonderland (commonly shortened to Alice in Wonderland) is an 1865 novel written by English author Charles Lutwidge Dodgson under the pseudonym Lewis Carroll. It tells of a young girl named Alice falling through a rabbit hole into a fantasy world populated by peculiar, anthropomorphic creatures.
The Wonderful Wizard of Oz is an American children's novel written by author L. Frank Baum and illustrated by W.W. Denslow, originally published by the George M. Hill Company in Chicago on May 17, 1900. The story chronicles the adventures of a young farm girl named Dorothy in the magical Land of Oz, after she and her pet dog Toto are swept away from their Kansas home by a cyclone.
Peter Pan is a fictional character created by Scottish novelist and playwright J. M. Barrie. A free-spirited and mischievous young boy who can fly and never grows up, Peter Pan spends his never-ending childhood having adventures on the mythical island of Neverland as the leader of the Lost Boys, interacting with fairies, pirates, mermaids, Native Americans, and occasionally ordinary children from the world outside Neverland.
This is one of many books in the series 3 Books To Know. If you liked this book, look for the other titles in the series, we are sure you will like some of the topics.